"Whatever an individual's retirement plan goals may be, working with plan sponsors to offer a quality employer-sponsored retirement plan provides better opportunities to meet those goals."
– Erin Van Asten, Assistant Vice President
Retirement Plans
"Whatever an individual's retirement plan goals may be, working with plan sponsors to offer a quality employer-sponsored retirement plan provides better opportunities to meet those goals."
– Erin Van Asten, Assistant Vice President
Retirement Plans
WoodTrust provides a comprehensive suite of retirement plan solutions. With over 30 years of experience as a trusted fiduciary partner, we provide businesses with everything they need to offer their employees a great retirement benefit. Our customized solutions include complete plan design and implementation, administration, compliance, investment services, recordkeeping, and effective participant education programs.
Notice: Investments in stocks, bonds, ETFs, mutual funds, and other marketable, non-bank securities are not FDIC insured, may lose value, and are not guaranteed by WoodTrust Bank or any other affiliate.
Click below for more info
Trustee & Fiduciary Services

Plan Design & Consultation

Recordkeeping, Admin., & Compliance Services

Investment Consulting & Custody

Participant Education & Communication
Trustee & Fiduciary Services
According to ERISA, any person who exercises decision-making authority over or discretionary control in the management of a plan or its assets is considered a fiduciary. This includes the investment manager, the plan administrator, and in some cases, board members or corporate officers.
WoodTrust has the capability to act as either a discretionary or directed trustee for retirement plans. The discretionary trustee engagement shares a greater level of fiduciary responsibility than the directed trustee, and there are numerous advantages to plan sponsors and participants in hiring a discretionary corporate trustee. The discretionary trustee must always follow the ERISA prudent-expert rules, utilize fiduciary "best practices", and must maintain detailed records of its actions. Directed trustees serve in a more limited fiduciary role, providing custodial services to hold plan assets without making discretionary investment decisions for the plan. In such limited-capacity co-fiduciary cases, the final discretionary authority and ultimate fiduciary risk belong to the plan sponsor.
|   | Erisa 3§(38) | Corporate Directed Trustee | Corporate Discretionary Trustee |
| --- | --- | --- | --- |
| Acknowledges Fiduciary Status in Writing | Yes | Yes | Yes |
| Broad or Narrow Fiduciary Responsibility | Narrow | Narrow | Broad |
| Bears Ultimate Risk for Investment | Limited by Contract | No | Yes |
| Supplies and Follows Investment Policy Statement | Yes | No | Yes |
| Protects Plan from Prohibited Transactions | No | No | Yes |
| Oversight Process Allows for Limited Scope Audit | No | No | Yes |
| Maintain Specific Records of all Aspects of Plan Management | No | No | Yes |
| Asset Custody | No | Yes | Yes |
Plan Design & Consultation
Retirement plan design may vary dramatically based upon demographics, objectives, business requirements, and other factors. WoodTrust's team of credentialed retirement plan experts are uniquely qualified to help plan sponsors successfully navigate complex federal regulations, and obtain maximum benefits for companies and their employees. Our plan design specialists take into consideration many important factors, including but not limited to:
Plan sponsor goals and objectives
Demographics
Plan flexibility
Fiduciary responsibility
Cost structure
Investment menu design
Administrative support
Industry trends
WoodTrust's goals are to ensure the duties and fiduciary obligations of the plan sponsor are being met, provide a full awareness of the cost structure associated with the plan, guarantee operational aspects are being administered correctly, and enhance the benefits for participants and their employer.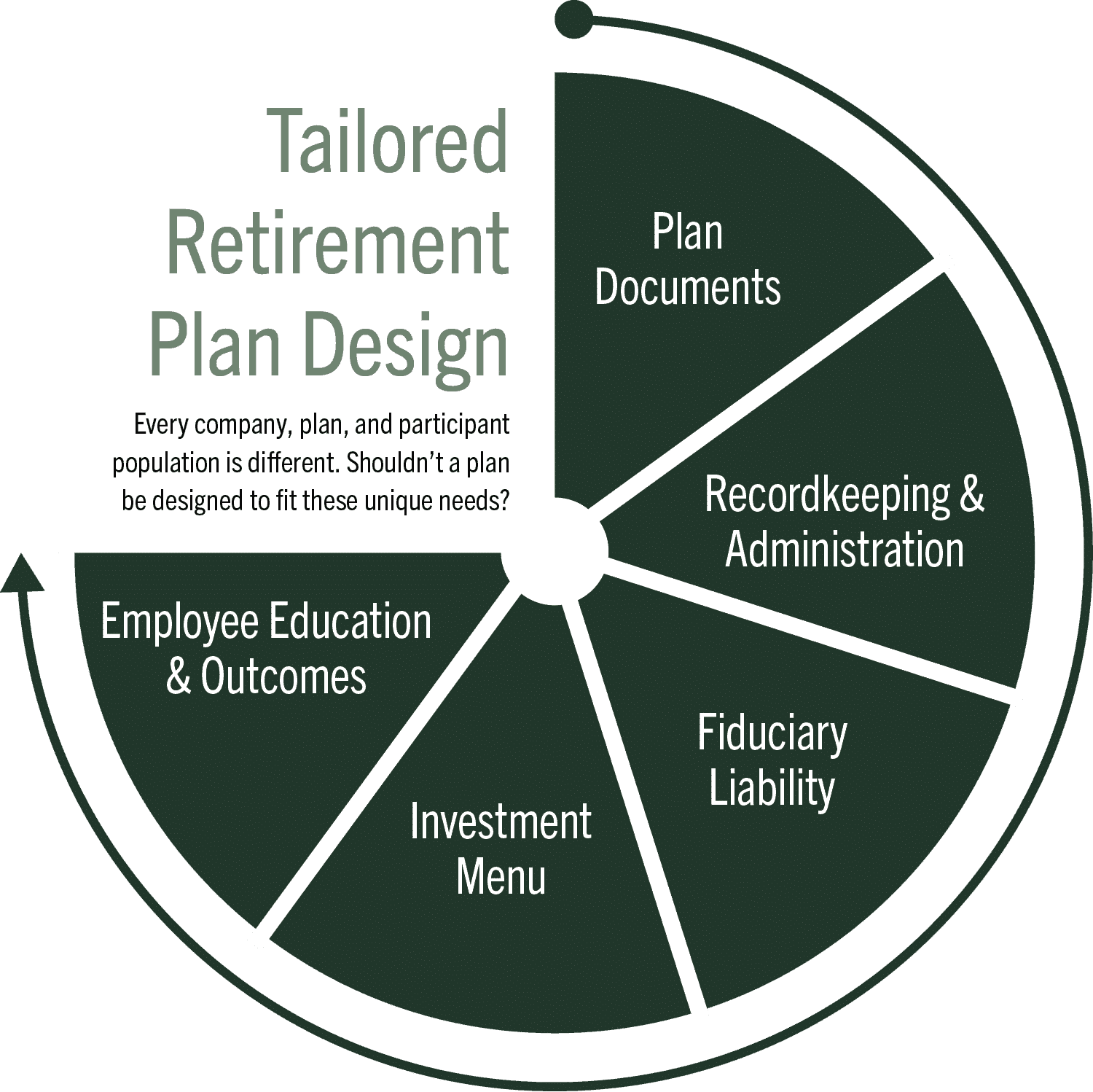 Recordkeeping, Administration, & Compliance Services
WoodTrust offers comprehensive and integrated retirement plan recordkeeping services. Years of experience and expertise allow for the creation of countless processing variations for all aspects of plan administration to best meet the unique needs of our clients. Our team provides accurate, timely, and excellent client service partnered with cutting edge technological solutions.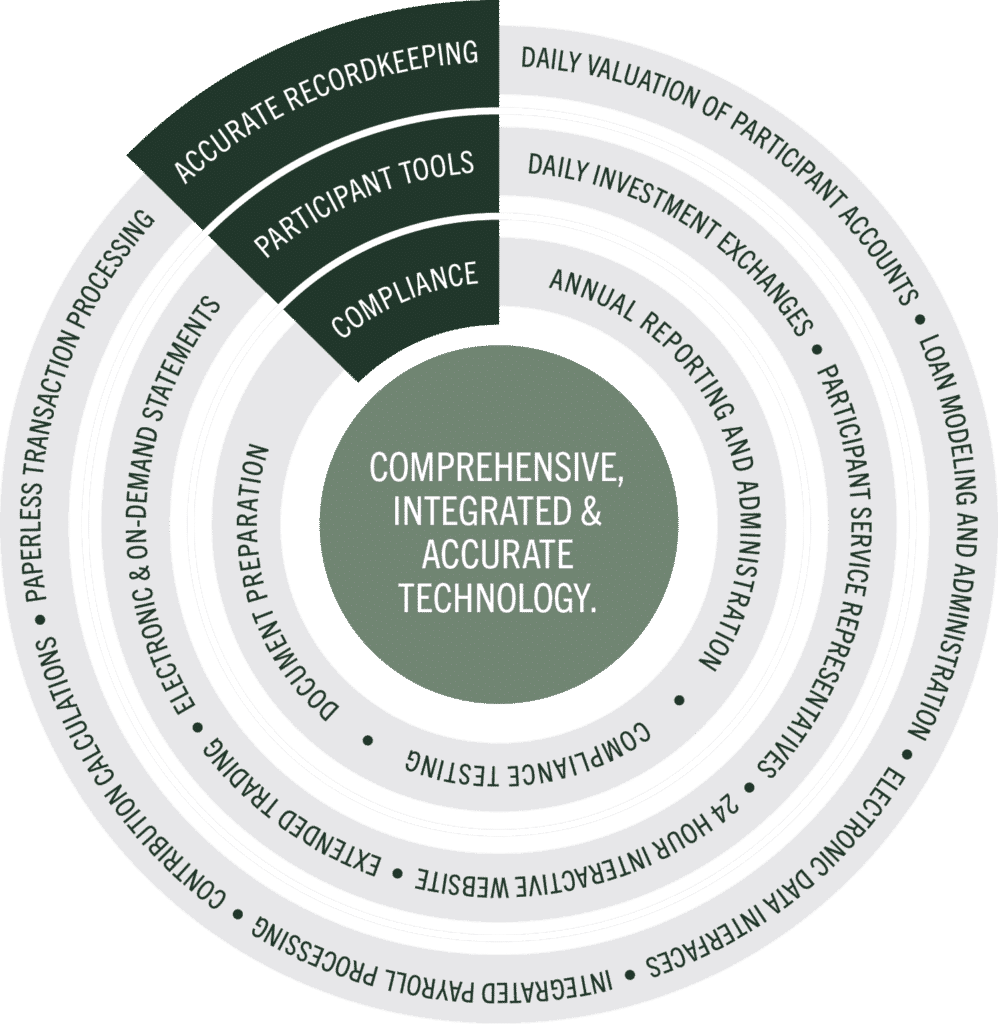 Investment Consulting & Custody
WoodTrust provides a robust selection of individual fund options and pre-mixed asset allocation solutions, including both actively managed and index-weighted asset allocation (lifestyle) offerings and Target Retirement Date (life cycle) choices. As a discretionary trustee and investment advisor to a retirement plan, WoodTrust works with plan sponsors to construct the optimal investment menu design through an "open architecture" evaluation process.
Following a unique and proprietary due diligence search, selection, and monitoring process, which WoodTrust developed in 1988, our investment solution is completely independent, utilizing only the lowest-cost, institutional share classes and refraining from revenue-sharing with fund families for retirement plans. WoodTrust's investment philosophy and manager research process, along with an internally developed and proprietary investment manager evaluation solution leads to the development of investment menus that are flexible, dynamic, and relevant to today's plan participants.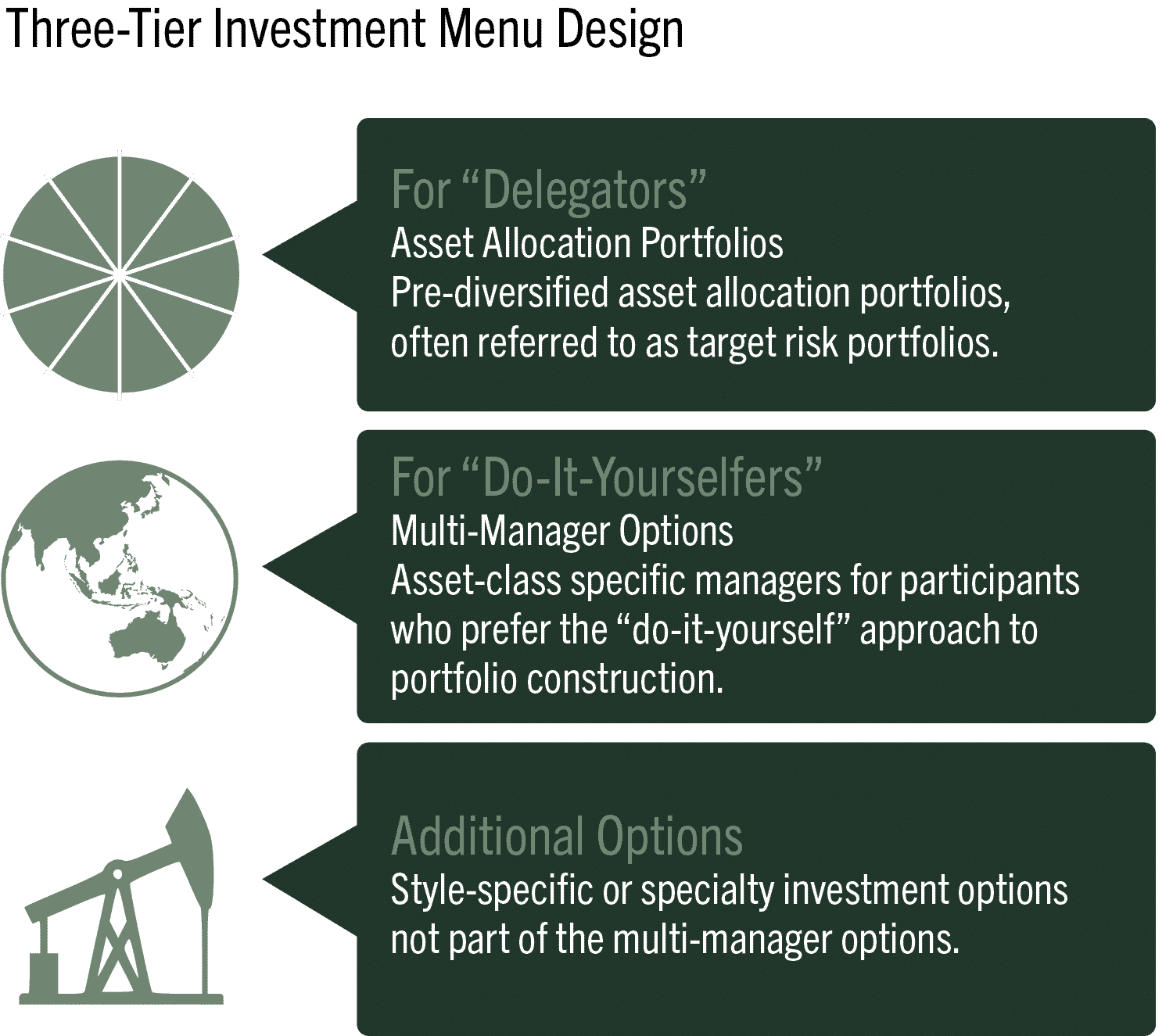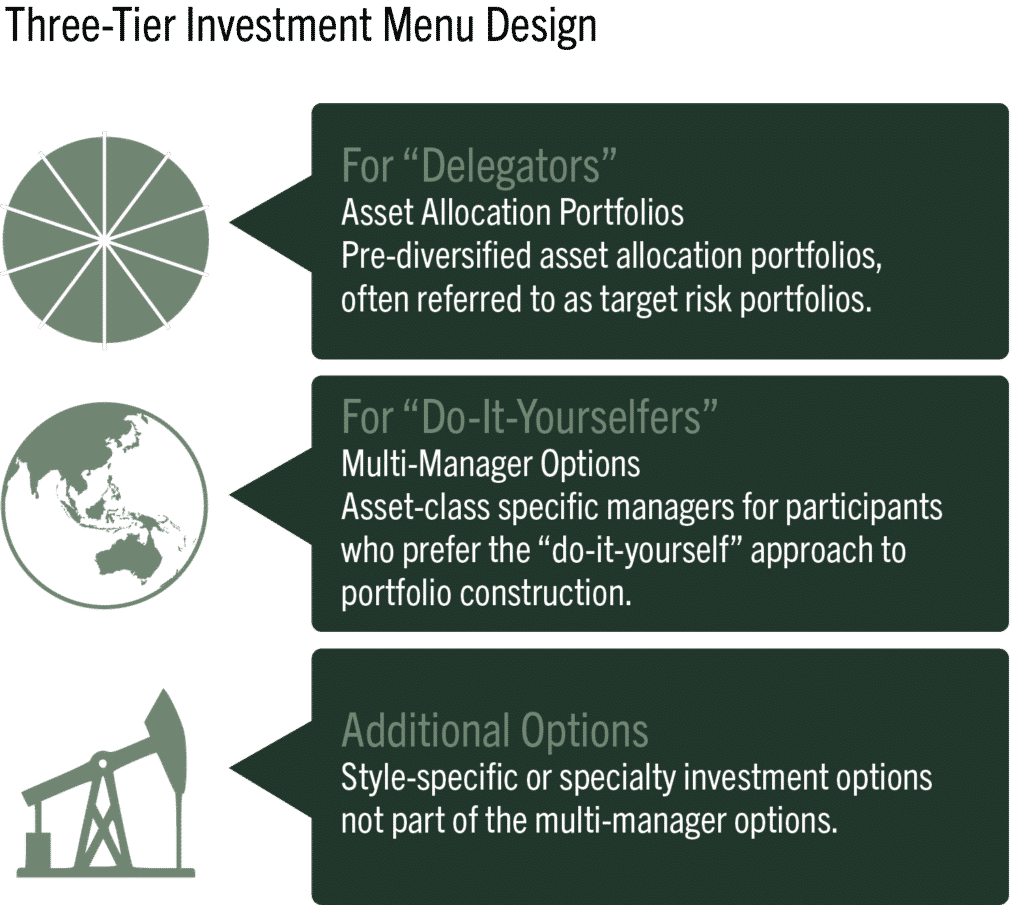 Participant Education & Communication
Face-to-face participant communication is one of the most successful forms of education and is an important element in the success of a company-sponsored retirement plan. Many larger, national providers provide written and online educational programs – which WoodTrust provides as well. However, as a local experienced provider, WoodTrust can also focus on on-site, interactive service delivery. This model includes group, one-on-one, and web-based solutions.
Face-to-face employee education campaigns focused on successful outcomes. Meeting directly with participants provides maximum effectiveness to assist in achieving individual retirement planning goals. The WoodTrust team holds numerous certifications in financial planning, investment management, trust and estate planning, and qualified retirement plans services (e.g., CFP, CRSP, CTFA, and CFA) allowing for assistance with even the most complex questions.
Enrollment
Easy-to-follow plan enrollment from SmartPlan. WoodTrust offers an interactive video-based system proven to increase plan participation and understanding. The SmartPlan system is designed to educate, entertain, and engage participants from any location. SmartPlan is built directly into the participant website for easy access.
Online Tools
Powerful and secure internet account access and education. Participants have secure, online access to important information such as account balances by source and investment, personal rate of return, Morningstar links for manager performance and information, transaction history, retirement savings tools from Guidance Plus!, and online statements.